We Can Work it Out: Day #8 Pilates: Abs Workout
October 9, 2011
A couple of months ago I went on a search to find DVDs that just focused on the abs. I've said it before, of all the measurements, it's the only one I really care about. If my waist can fit into my small-size belt collection, inches, I'm a happy.
This DVD showed up in my search.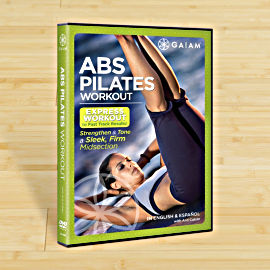 Title: Pilates: Abs Workout
Host: Ana Cabán
Time: About 30 minutes
Star Endorsements: Kim Coles, Tony Plana,Sharon Stone, Maria Bello,
Music: Nothing extraordinary or irritating
Cuing: Just fine. The reps are short, though intense.
Production Values: The beach setting is soothing–designed perhaps to keep your mind of the intensity of the workout.
Level: Ana does have a co-star who modifies the moves. For that I am grateful.
Equipment: A mat.
Video Vibe: The focus is completely on the workout. No smoke or mirrors. Just the ocean waves in the background.
What It's Like?: It's challenging, but not so very inspirational. It's a solid workout, but it's not a workout that is built to motivate.
Rating: Three legwarmers out of five
Notes: This is a serious workout. I'll even confess that I could not do some of the moves. I do like a challenge, but this is not one of my favorite workout DVDs.   Ana seems like a cool chick. She has other DVDs. Perhaps one of them would tickle my fancy.